Spray Paint
Spray Paint
Spray Paint
Archive
Spray Paint
Archive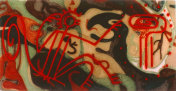 An Exploration of the Medium Like No Other !!!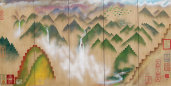 CLICK ON
PAINTING
TO VIEW
LARGER
Spray Paint
Scroll Down for Related Reviews
Yo ho ho ho Ar
Spray Paint
Since the spring of 1983, Scot Borofsky has been transforming the dilapidated tenements of the Lower East Side into artificial relics of Palenque, Mitia, and Monte Alban. Borofsky spraypaints elaborate patterns based on pre-Columbian designs, on the iron gates and crumbling brick walls that are scattered throughout a neighborhood of vacant lots and bombed-out shells.
Borofsky found his inspiration for the colorful works, which combine rigid geometry with graceful biomorphic lines, in southern Mexico. He has spent seven of the last nine winters exploring the ruins and museums of chiapas, (Jaxaca and Guatemala, copying the ancient pictograms of the original native Americans. Altering these images to accommodate a modern consciousness he brought his drawings to New York,where he transferred them to a large wall-size proportions the contrast of the beautiful, colorful patterns with the squalor and decay that identifies the Lower East Side is remarkable, At the same time the corpses of abandoned tenements frequently resemble ruins in other parts of the world and Borofsky's murals add to the wistful melancholy that accompanies reflection on things of the past.
Because the area where Borofsky paints, often called Loisaida, is predominately inhabited by Latin Americans, he reaches all audience particularly receptive in his work. The ancestors of many of the local residents, in fact painted those very images that Borofsky imitates. The artist has found that many people think his work is created by a Hispanic artist redefining his roots by drawing a comparison between contemporary New York and ancient Central America. Though that comparison is clearly emphasized in the murals, the artist making them is a "gringo."
The association between Aztec and Mayan civilizations and our own takes place primarily in the premonitions of imminent disaster suggested by a neighborhood that looks like it has survived a world war. The tremendously advanced native american cultures of Central America fell to strong Spanish military forces greedy for gold and power in the New World. Today, the same greed for wealth and military supremacy threatens not only the civilizations and cultures of New York and Central America, but the entire world.
In the past, Borofsky has distributed maps indicating locations of his various paintings using the city streets as his gallery. His recent (indoor) gallery show, in the same neighborhood, uses the same imagery as his murals. Spray painting linen instead of brick, he maintains the large size and bright color, losing only the original context of his outdoor work. The paintings, which include several smaller pieces on rice paper, look very elegant as traditional interior decoration.
Often, the artist achieves a level of abstraction in which the image can be interpreted either as a mask, a landscape, or a full figure. In this respect he models his work after African as well as Columbian art, Pyramid of purity, for instance, portraying a triangle resting on a horizontal base with a loose coiled line over it, can be read either as a landscape with a pyramid and clouds or as a face with a triangular nose and two spiraling eyes. Another painting, Landscape, Serenity features carving lines on the bottom of the canvas and two heavy parallelograms at the top. Though the picture can be read as mountains, occupying the negative space in the middle of the canvas, and a river, the composition also resembles two dark heavy eyes and a twisting mouth.
Borofsky accomplishes all of this with very little deliberation. Each picture is very sparse, employing a combination of hard edge geometry and sinuous biomorphic shaped. "The balance," he has said, "of straight and curved lines is extremely important. They represent man-made and male symbols on the one hand and natural and female on the other."
Accompanying these painting, Borofsky has three small statues on display. These pieces, made of artifacts found on the street, resemble primitive sculpture more than his paintings do primitive painting. The paintings rely on a strong graphic sensibility, acknowledging the flatness and the rectangularity of his surface, balancing a composition without sacrificing movement. Both the painting and the sculpture employ contemporary materials to produce pseudo-primitive look; but in their brilliance and cleanliness the paintings introduce a slick modern element to he dialogue, making them more successfully complex than the three-dimensional work.
Unlike much art relating to central America, Borofsky avoids overt political statements. Only one piece in the gallery, The Monkey and the mushroom, revealed and obvious political reference-in this case, a camouflaged background and what could be interpreted as a mushroom cloud. For the most part, Borofsky's work is a eulogy to past civilizations with a finger pointing ominously toward our own. His art is a rare mixture of joy nestled in the seat of despair and memento mori for the post-nuclear age. -Mark Brennon
ARTS MAGAZINE 1984
SCOT BOROFSKY
Scroll Down for Related Reviews
REMEMBER
JACK

KEROUAK
word of mouth. "the timing was crucial and the response was tremendous," he says. "We new graffiti artists wouldn't be in the Hamptons in August like other artists."

The gorilla reference says Red Spot, is a parody on "guerilla" would be more descriptive of the exhibiting artists. "We decided to do a parody on it," he says. "The whole Lower East Side is a parody of the art World."

Artists in the Gorilla Show include: Lawren Hancher who specializes in painted food "fragments"; Linus Coraggio with his 3-D graffiti;" and Scot Borofsky and Robin Vanarsdol both of who work on large murals in the area.

TO TAKE THEM HOME
Hancher's multicolored wood fragments are done much in the spirit of Red Spot's masks and she deposits hundreds of them at various places in the city with the hope that people will take them home.

"They just sort of appear," says Hancher as she places one of her fragments on a ledge near the Avenue B Gallery. "I like the ambiguity. I love street art but I'm not at the point where I can take a spray can and make it permanent."

Linus Coraggio has an untitled 3-D graffiti piece composed of painted wood and metal attached to one of his favorite props, a city bus stop sign pole, directly across from the gallery. He has been bolting them to similar poles throughout the city over the last two years. His work is often removed by enthusiastic street art collectors but Coraggio says he bolts them to insure some degree of permanence.

"I always attract a crowd when I'm doing it," he says. "I've been using a hatchet in case anyone gets too weird and I pretend I'm going to hit them but I never do."

Scot Borofsky likes to think big and his "Pattern Walk" of 20 murals representing over a year's work on a dilapidated block near 6th St. and Ave. C is a good example

Pattern Walk is based on Borofsky's studies of Pre-Columbian art and its lower East side setting reinforces that theme. "They are based on things found in Columbian ruins," he said last week as he stood beside a mural called "Monkey and the Mushroom," "These are urban ruins."

The "monkey and Mushroom," like many such street scenes, has a modern message of its own with the monkey representing evolution and the mushroom and atomic explosion. "It represents where we assume we came from to where we assume we're going to end," he says.

Several wall sections of abandoned buildings were left purposely untouched by Borofsky who hopes other artists will come in and compliment his work with their own art. "Wear your crash helmet and do something decadent," he advises.

Wall murals are also the specialty of Robin Vanarsdol or R.V. Whose work centers in Soho. The Post Office loading bay on the corner of Greene and Spring Streets serves as a virtual gallery for R.V.'s themes and symbols are mostly personal and strive to convey his own life experiences and philosophy. A mural called "Corvette Anxiety," for example, reflects on the artist's desire as a young man to drive fast in a new Corvette, in much the same way as today when he must paint fast to avoid arrest for vandalism.

Another mural called "bad Jet" (one of the most populart R.V. symbols) "represents the model airplanes I played with as a child," he explained. "The airplanes never killed things but I killed things." Next to Bad Jet is "Gunboat Waiting for Bad Jet," a symbol of the artist "waiting for anything that attacks me."

R.V.'s anxiety in his art work is perhaps representative of the paranoia experienced by many street artists who usually work in the dead of night with one eye over the shoulder. Almost everyone at one time or another has run into problems with zealous cops or irate building owners. Only last week, Borofsky was kicked to the sidewalk by a bouncer after spraying his "tag" on a wall near a local nightclub; Linus Corragio had to make a quick getaway on his oversize skateboard when a 3-D graffiti piece ran afoul of the law.

Red Spot says he's heard rumors that police are using B.B. Guns to discourage street artists but adds that, most of the time, work is allowed to progress as long as it isn't on those streets the police generally try to keep clean and if it "contributes to the neighborhood."

Many of the artists in the Gorilla Show hold various daytime jobs while some are able to support themselves on their studio work. The motivation for street art ranges from a desire to take the non-gallery route to fame, like former street exhibitors Kieth Haring or Richard Hambleton, to a simple quest for artistic freedom with the widest public participation. (Haring has become known for the subway drawings while Hambleton, the creator of Soho's famous silhouettes has moved outward and upward into the art world). Street artists may be paranoid but the competition is stiff. R.V., for example has been working Mercer Street for years but find his work is regularly covered over by new artists looking for their own corner of the city.

"If you dont stay on the street you work doesn't stay on the street," he says, gazing at the faded remains of a Bad Jet rendition. "If you can have a piece go for three years you're real lucky."
THE VILLAGER, AUG.23, 1984
(TRANSCRIPT CONTINUED BELOW)
(TRANSCRIPT CONTINUED)
by JAMES SHEEHAN

You've heard of Wingo, Zingo and Lotto, now there's Graffiti Pimples, the new game that gives you an education in street art and offers cash prizes at the same time.

Graffiti Pimples is the creation of artist Allen Daugherty, known to his friends as Red Spot. To play you must first locate one of Red Spots plaster masks which he has placed in numerous spots around the Lower East Side and Soho. When you find one simply smash it to pieces and get the money inside.

"I try to make at least four of them a week," says Red Spot. "I really want people to destroy them rather than take them home." Other prominant street art by Red Spot includes posters on the Lower East Side and in Soho depicting, of all things, red spots.

Red Spot's work, along with the street art creations of 50 other artists, is featured in the Gorilla Art Show at the 167 Avenue B Gallery through August 26.

Those who visit the gallery however, should be prepared for some hiking. The real show is on the streets of lower Manhattan where phantom artists have left their murals, sculptures and graffiti.

At the Avenue B Gallery visitors can pick up a guide with maps for each artist and get an idea of what's in store by brousing through the color photographs on the walls.

A GORILLA GAB SESSION
The show will continue after August 26 with part two beginning at the Avenue B gallery on September 6 with a "Gorilla Gab Session" featuring several artists speaking on their street work. The evening will also include videos of artists at work. Part three begins on October 4 and will feature the studio works of Soho artist Larmee who has done several large street murals in the area.

How did this Gorilla Show concept come about? Red Spot and artist Martin Hason who conceived the show, posted invitations to street artists around town and, according to Red Spot, things developed from there by